Evolve Wardrobe – White
Contemporary Evolve Wardrobe – White The Evolve Wardrobe – White by Vox is a spacious and functional wardrobe that perfectly complements the other furniture from the unique Evolve baby collection. The wardrobe has two white doors opening to a rail for hanging clothes on the left and five adjustable shelves on the right. The bottom […]
Dimensions
Height: 185cm
Length: 90cm
Width: 53cm
Contemporary Evolve Wardrobe - White
The Evolve Wardrobe - White by Vox is a spacious and functional wardrobe that perfectly complements the other furniture from the unique Evolve baby collection.
The wardrobe has two white doors opening to a rail for hanging clothes on the left and five adjustable shelves on the right. The bottom drawer on easy-slide rails is brilliant for storage of chunky items. The wardrobe is lifted slightly off the ground with sturdy wooden feet, enabling easy cleaning underneath.
The surfaces of modern laminated board are resistant to damp and damage and are easy to clean.
This product ships flat pack and requires assembly
Top shelf featured in video not included
The fitting needed to attach it to a wall is not included, as it depends on the type of wall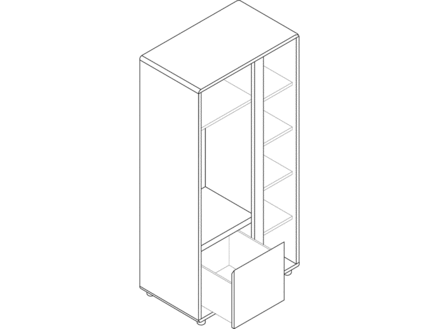 Features
Six shelves, hanging rail and drawer
White and Natural Wood finishes
Aesthetic finish and quality materials used
Complies with European Standards and safety norms
Materials
Laminated board – resistant to damage and damp, easy to keep clean